Necklace (Yard Sale) Dress ( Dear Creatures) Shoes (Swedish Hasbeens) Knee Socks (Modcloth)
I haven't posted an outfit in so long. Thus explaining my overdramatic poses, I have been out of practice. My main go to photographer, my husband, is finally back in town for a while from Wisconsin and at my disposal to take photos whenever I wish. Thrilling for him I'm sure. :) I wanted to model my Mother's Day gifts, aren't these shoes darling? He did a great job adhering to the, ahem, list. I adore this flowy, cutesy dress and when I paired it with some knee socks I felt the outfit was perfectly charming. Our town has a huge yard sale weekend every year and I made a point to go and find something I loved. I came back about 5 dollars poorer and a key necklace, a 70's floral bag (It even came with a brief history from the nice owner who was selling it to me), and a couple of sewing hoops richer. I love living in a place where yard sales are taken so seriously! I think every house for 10 miles was having one.
We had a wonderful weekend that began with picking up Cameron from the airport. The next day we went to the zoo with my family and Cohen had a terrific time. Having him makes those kind of outings ten times more exciting than they normally would be. Last night we had a delightful double date at Buffalo Wild Wings with Derek and Carlie. I needed those laughs that can only come from Cameron's exaggerated story telling. I missed him so much!
I hope everyone has a relaxing Sunday! Im linking up with: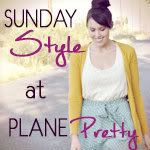 Faith, Trust, and Pixie Dust